How Casa de Corazón Supports Breastfeeding Moms at Work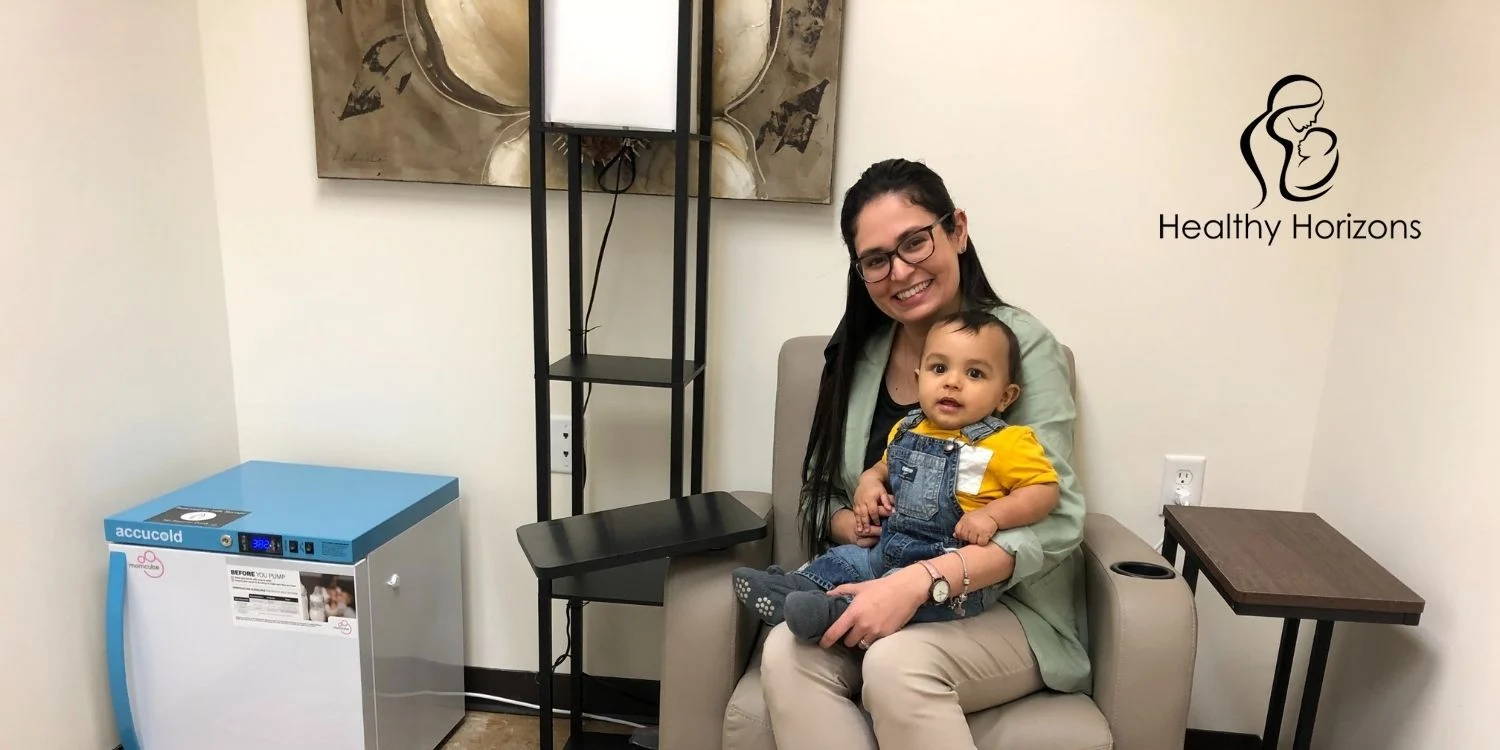 Founded in 2002, Casa de Corazón is a provider of Spanish-immersion, early learning programs for preschool children throughout Minneapolis. It recently opened its mother's room in Maple Grove, a dedicated space where parents and employees can breastfeed or pump in comfort and privacy. The mother's room was furnished with prizes earned by winning a contest by Healthy Horizons, a national provider of corporate lactation services.
Casa de Corazón is a model for workplaces that wish to support breastfeeding mothers at work—in an environment that celebrates and respects cultural differences.
Sorimar Santiago, a teacher at Casa de Corazón is pictured with her son in the daycare's new lactation room. Santiago says, "I'm so grateful to have a safe and private space to not only breastfeed my son but to pump when I need to. It makes me happy to know that I work for a company that not only supports breastfeeding moms but that has taken the time and made the space to provide a private environment for us."
Natalie Standridge, Founder and CEO of Casa de Corazón says, "As early childhood education providers, we are dedicated to the optimal health and positive development of the children in our communities. We know that supporting the breastfeeding moms that are both enrolled with us and employed by us is paramount to public health and to the work-life balance of new moms returning to work. We are proud to help moms provide the best nutrition and immune system support for their babies through breastfeeding by providing safe, clean and comfortable spaces for nursing and pumping, as well as safe storage and handling of breast milk in our infant classrooms and now, new breast milk only refrigerator. Our sincere gratitude goes out to Health Horizons for their tangible support of this important effort!".
Corporate Lactation Rooms
Corporate lactation rooms provide a safe, private and comfortable place for nursing moms to pump or breastfeed at work. Healthy Horizons helps employers create an inviting space that helps support milk productivity and work producitivty.
Sheila Janakos is the CEO of Healthy Horizons, the breastfeeding center that provided the equipment and furnishings for Casa de Corazón's lactation space, Janakos says, "We are so pleased that Healthy Horizons could contribute to Casa de Corazón's mission to help families in their community thrive through breastfeeding support. It's wonderful to see organizations like Casa de Corazón empower new moms with the resources they need to breastfeed their babies."